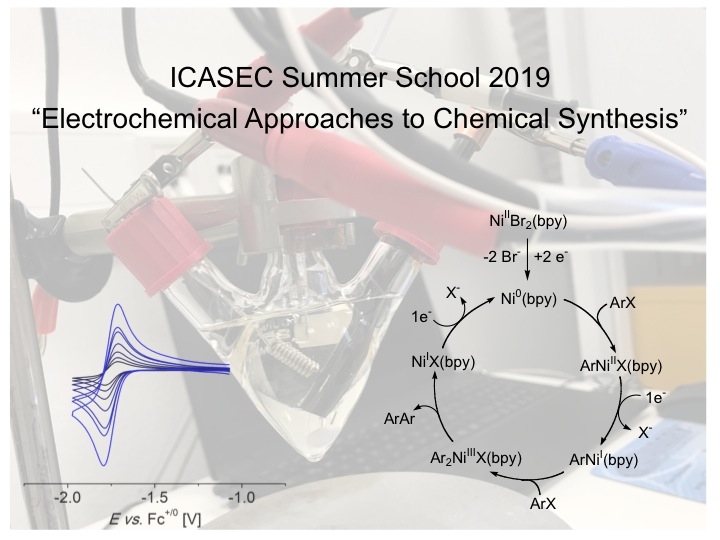 About the Summer School

The 2019 Summer School of the International Center for Advanced Studies of Energy Conversion (ICASEC) on October, 06-09 covers the topic "Electrochemical Approaches to Chemical Synthesis".
The mission of ICASEC is to bring together a broad range of scientists and address fundamental problems of energy conversion in research and teaching. For this purpose, our annual summer school provides a discussion platform for international postdocs and students with 8 leading experts. This year the emerging field of electrochemical synthesis beyond basic energy research was chosen as main topic.
Invited speakers will each give two 45 min presentations. A tutorial lecture on the fundamental principles and methods of their work is followed by a seminar that covers their current research and the state of the art in electrosynthesis.
Participation in the Summer School is free of charge for students and post-docs. Participants are expected to cover their accommodation and travel costs.
Thanks!

After four days of intense and exciting science on the forefront topics of electrochemistry, we are certain that all participants will greatly benefit from the provided insights and wish them all the best for their upcoming (electrochemical) research. We especially want to thank the speakers, Cyrille Constentin, Sasika Heumann, Gerhard Hilt, Anny Jutand, Daniel Little, Antoni Llobet, Shelly Minteer and Thomas Wirth for their highly instructive and inspiring contribution.

Deadline for Registration
01.09.2019

Chairmen
Sven Schneider, Georg-August Universität Göttingen
Inke Siewert, Georg-August Universität Göttingen
Alec M. Wodtke, Max-Planck Institute for Biophysical Chemistry